Your VoIP system needs to be integrated into your network to ensure security and full functionality.
Don't rely on someone who does not have the required network expertise of understanding your entire computer network. Today's modern voice systems are integrated network devices that need to work with all of the other devices on your network. When you partner with T. Daniels Consulting, you get a team of Microsoft Certified experts with the network knowledge to assure you the security, stability, and efficiency you need from an internet-based VoIP system. Partner with T. Daniels Consulting and you know you are getting certified service from the certified experts.

CLOUD BASED SYSTEM
We take care of your new VoIP phone system in our fully redundant data center. You no longer have to worry about owning and maintaining traditional PBX hardware. All you need are IP phones that plug directly into the internet via your existing network.
Get all of the features of a business phone system on your existing cell phone – no need to have two separate phones! Your team can stay connected from any device when they are inside and outside of the office.

VIRTUAL RECEPTIONIST
Improve your customer experience with a professional greeting and route callers to any employee, department or a cell phone. Once considered a big business feature, the virtual receptionist is now available to businesses large and small thanks to our VoIP system.
Flexible options include playing custom messages with general information about your business, such as hours of operation and locations, and creating specific call routing for business and non-business hours.

WEB MANAGEMENT
Our simple to use portal allows you to access your features and settings 24/7 from any location and any device via the web. No more scheduling and waiting for the phone vendor to come and rewire the telephone closet for moves, adds, or changes.
Provision new users in minutes, instead of hours or days, thus making them productive from their 1st day on the job. The flexibility and scalability of VoIP is ideal for businesses with seasonal fluctuations in staffing or companies experiencing fast growth.

SEAMLESS TRANSITION
Gone are the days of the onsite hardware installation with a traditional phone vendor that knows nothing about your internal network. Not to mention the downtime (and lost customer calls) incurred when switching out physical hardware and setting up a new phone system.
T. Daniels Consulting's voice solutions and services are incredibly easy to provision, implement, manage, and use. Plus, you will not have to make changes to your existing phone numbers including extensions, Direct Inward Dial (DID), and toll-free numbers.

COST EFFECTIVE:
T. Daniels Consulting's VoIP service provides the features and control of an onsite phone system, without the upfront investment and ongoing support costs. Typically, businesses see average savings of between 50 percent and 75 percent after switching to VoIP phone systems.
These savings come from cutting the costs for leased lines, local and toll calls, personal cell phone reimbursements, hardware upgrades and repairs, and employee training. Not to mention a lower total cost of ownership over traditional premise- based solutions.

FULLY MANAGED
We tailor your VoIP services to your exact requirements and deliver a Hassle Free, All Inclusive VoIP Phone System. As a fully managed solution there is no need to source your service, hardware, installation and maintenance (including updates) from different vendors.
This means significantly less risk for your telecommunications investment. When your traditional PBX system breaks, the repair cost comes out of your revenue. Not so with managed VoIP. We handle the details so you can focus on what's important: Your Business.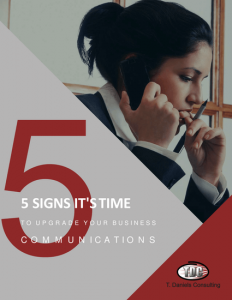 Download Our Free 5 Signs It's Time To Upgrade Your Business Communications Guide