Dealership
Leverage the Best Dealership IT Support By Partnering With T. Daniels Consulting
Worried about the GLBA Safeguards Rule and how you will be able to meet the June 2023 deadline? Tired of downtime which delays service repairs, parts orders, and car sales? Frustrated with the integration of dealer specific DMS systems with traditional business applications? At T. Daniels Consulting, we take care of your technology needs so you can focus on your dealership and make sure your are compliant, save time and money, and eliminate the worry of managing your own IT. Our services include:

DMS SYSTEMS
A properly functioning DMS is a vital part of your dealership operations. Our team is experienced with most of the leading DMS systems and associated software apps that work with them including: Reynolds & Reynolds, ADP/CDK, AutoMate, Dealer Socket, DealerTrack, and others.
Our advanced experience separates us from all the other IT firms who may not even know what DMS means let alone the nuances, quirks, and special settings that make the app operate most effectively. We not only know your network, we know how your applications will best work on your network. You purchased software that specializes in auto dealerships because of industry experience. Thus, it only makes sense to work with an IT firm that specializes and has experience working with dealerships as well. We save you time, frustration and money because we know Dealerships!

HELPDESK SUPPORT
There is nothing more frustrating than having an urgent technology issue and having to wait to get assistance. We know a broken workstation can directly equate to a lost sale or service delays.
We don't want that to happen. Our team is not just technology experts, but also experts in how dealerships operate. Personalized support that actually cares about your dealership is a key strength of T. Daniels Consulting.

DATA AND NETWORK INFRASTRUCTURE
Technology changes so rapidly that it's challenging for anyone who is not firmly rooted in the IT world to know for sure what needs to be done to stay ahead.
T. Daniels Consulting ensures a reliable data management and network infrastructure is in place to optimize your systems for both functionality and performance. We'll proactively do the maintenance you need so your workforce has the uptime they require to get the job done.

EMPLOYEE TRAINING
Your service technicians, sales, parts, and business office teams are all skilled at what they do but you can't assume that they know how to protect your dealership and client data.
Did you know that more than 60% of cyber-intrusions can be traced to employee error? We'll help you minimize your risk and avoid that pain by training your staff in cyber security best practices.

3rd PARTY VENDORS:
We know the communication with and management of the vendors you work with day in and day out can be a full-time job. Leverage our extensive partnerships and experience to manage these relationships for you.
T. Daniels Consulting will work with your vendors on your behalf and handle everything from day-to-day to the most complex issues. Whether your concern is your website, inventory feeds, printers or any other technology related third-party product, trust T. Daniels Consulting to be your single point of contact so you can focus on your core business of selling and servicing automobiles.

IT POLICIES AND PROCEDURES
Small, common IT issues can often send a business into a tailspin leading to financial losses, customer repercussions, and even legal problems. We will audit your existing processes and then develop, implement, and train your staff on technology best practices.
And with almost 60% of cyber-attacks being aimed at small businesses, the T. Daniels Consulting team will implement security solutions and best practices at all vulnerable points. Let us secure your technology environment and keep it away from cyber criminals.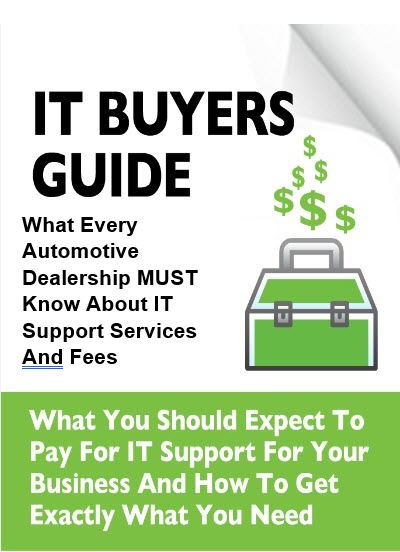 FREE AUTO DEALER IT BUYERS GUIDE
We Specialize In The Auto Dealer Industry
See What Our Clients Have to Say